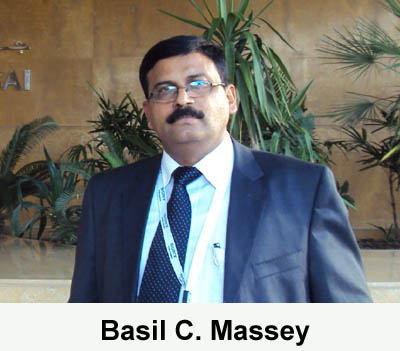 Basil C Masseygraduated from Canada and followed up with graduation from Delhi University. He started his career as Asst. Manager of Prince Sweets, Canada – North America's First Indian Sweet Shop in the year 1975. Basil has over 3 decades of rich Hospitality Industry experience in the field of material management (procurement, negotiations, logistics) with leading hospitality brands. His main forte in Hotel & Air Catering building has been Planning , Budgeting, Procurement, Negotiations and Competitive Rate, Execution and Commissioning of the project. His rich experience of 3 decade includes contribution for developing 3000 rooms for the India's premier luxury hotel company (Taj Group of Hotels) in his 27 years of tenure with company. His major contribution towards the project procurement (Greenfield projects and major renovation) for India, Mauritius, Maldives and Kathmandu.

Basil setup the central procurement division and held the position of Director of Procurement with Duet India Hotels Pvt. Ltd, a real estate investment company.

Some of the properties I have worked on are:
Holiday Inn Express, Ahmedabad
Holiday Inn Express Mahindra World City, Chennai
Holiday Inn Express Old Mahabalipuram Road, Chennai
Holiday Inn Express, Hyderabad
Four Points by Sheraton, Jaipur
Four Points by Sheraton Hotel & Serviced Apartments, Pune

Basil is a firm believer in people development and relationship management. He has initiated many of the best practices prevalent in the Indian Hotel Buildings. He has not only mastered material management, but also did many other curriculum activities like organising Kashmiri Food Festival in Taj Palace Hotel and Taj Mahal Hotel. He has also introduced an in-house magazine called 'Gup-Shup', Food Committee, Trainees Department etc.

Basil often dons the professorial hat in teaching courses and conducting guidance & training programmes for the fresh students of Hospitality Colleges. He specializes in Negotiation Skills – a very important tool in procurement. His valuable contribution toward the industry is seen regularly in various trade magazines on the Hospitality business. He also guides new hoteliers about issues like – what to buy, when to buy, how much to buy, sequence of buying and delivery of material in co-ordination with Project execution, which helps in financial savings.